This is an epoch-making device that purifies and recovers acid waste liquid and alkaline waste liquid, which were conventionally neutralized and discarded in large quantities, by the membrane separation method using pressure. Valuable metals in the waste liquid are separated from water and acid as salts and concentrated and regenerated.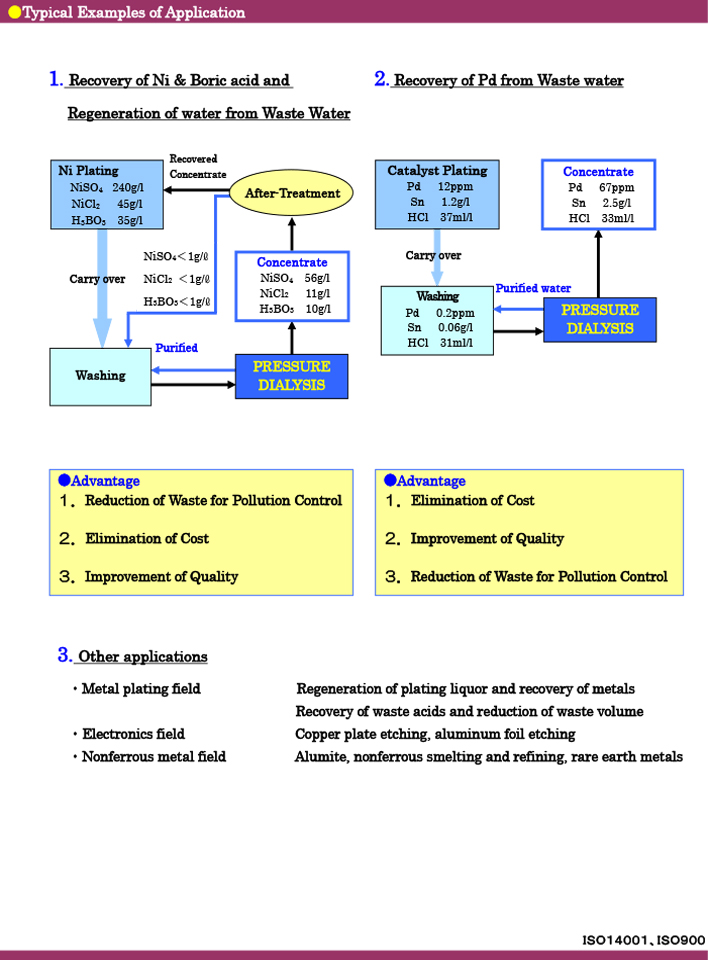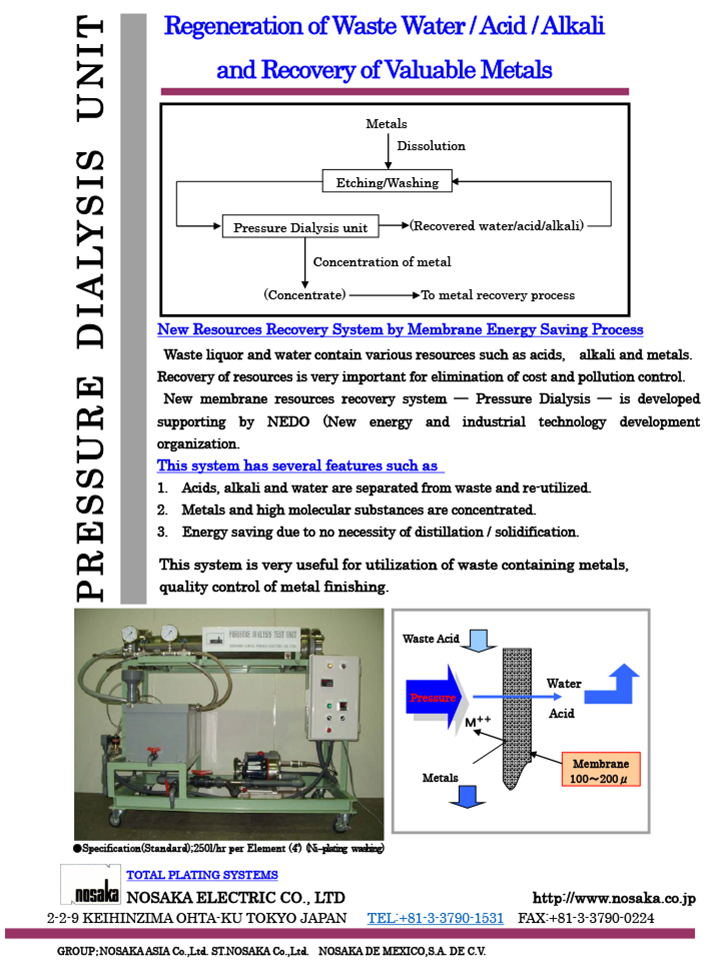 Principle of pressure dialysis method.
 本装置は圧力を利用した膜分離法で、廃液中の酸回収、金属の濃縮分離を効率よく実現します。原理的には逆浸透膜と類似しますが、メンブレンは強酸領域からアルカリ領域まで広い範囲で適用が可能です。
 また拡散透析法は廃液と水の濃度差を利用して、酸を精製分離する方式のため、分離精度向上には膜面積を大きくする必要があるのに対して、圧力透析法では膜自体にN+荷電子を付加させているため、廃液中の金属と酸は圧力によって濃縮金属廃液と酸とに精製・分離され、回収されます。また、廃液中の水は酸と共に回収されますから、工程中からの酸排出量は激減します。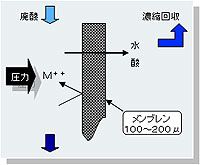 適用分野

1)めっき水洗水からの酸回収再利用、金属分濃縮分離。
2)各種エッチング液の再生(液の長寿命化)。
3)ステンレス酸洗廃液からの酸回収再利用。
4)アルミ前処理液(硝酸/フッ酸)の再生(浴の長寿命化)。
5)各種酸廃液からの酸の回収と金属分離・回収、排水量の削減。
6)他の既存プロセスとの併用により、銅めっきやニッケルめっき水洗水からの水回収・再利用と金属塩類の濃縮・分離・回収。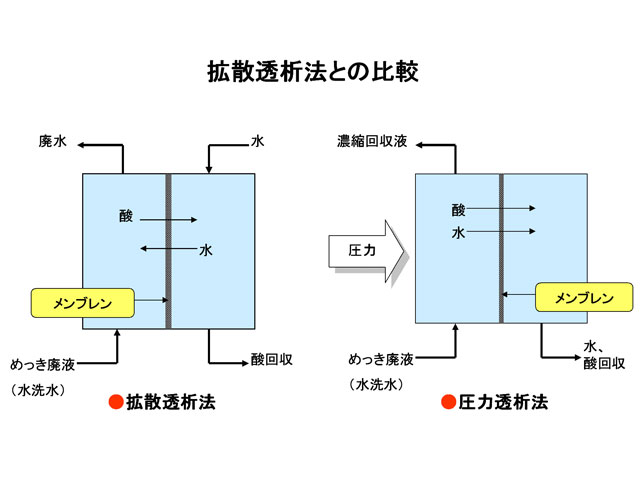 | | |
| --- | --- |
| | This device is a membrane separation method that uses pressure to efficiently recover acids in waste liquids and concentrate and separate metals. In principle, it is similar to a reverse osmosis membrane, but the membrane can be applied in a wide range from the strong acid region to the alkaline region. In addition, since the diffusion dialysis method uses the difference in concentration between the waste liquid and water to purify and separate the acid, it is necessary to increase the membrane area to improve the separation accuracy, whereas in the pressure dialysis method, the membrane itself Since N + cargo electrons are added, the metal and acid in the waste liquid are purified and separated into the concentrated metal waste liquid and acid by pressure and recovered. In addition, since the water in the waste liquid is recovered together with the acid, the amount of acid discharged during the process is drastically reduced. |
Field of application

1) Acid recovery and reuse from plating water washing water, metal concentration separation.
2) Regeneration of various etching solutions (extending the life of the solutions).
3) Acid recovery and reuse from stainless steel pickling waste liquid.
4) Regeneration of aluminum pretreatment liquid (nitric acid / hydrofluoric acid) (extending the life of the bath).
5) Recovery of acid from various acid waste liquids, metal separation / recovery, and reduction of wastewater volume.
6) By using in combination with other existing processes, water recovery / reuse from copper plating and nickel plating water washing water and concentration / separation / recovery of metal salts.